During an offline activation/return, the error message "Licensing object error" typically arises when trying to load the authorization file (.bin) generated by our License-Server (https://license.proteinmetrics.com) within the Byos Desktop Client.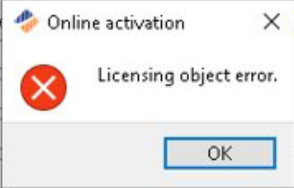 The .bin file provides the permission to allow that PC to use the license it previously requested. However, if the user tries to load this .bin file into the Byos Desktop client from a non-local folder to a Byos PC (e.g., NAS drive/network folder), it usually fails with the error message shown above.
This is indicated in the step 7 of our License-User-Guide in the sections Offline activation and Offline return. Please send us an email if you need a copy of this guide.